Skip to Content
How Do You Become a New Patient at AH Concierge Physical Therapy?
AH Concierge Physical Therapy strives to make physical therapy as convenient and hassle-free as possible. If you're looking to schedule an appointment, we ask that you call our main office. If we miss your call, our office will reach out at a time that works best for you and collect additional information needed to get you scheduled for your first physical therapy session. Once we have everything, we will need to determine the best therapist for your situation and coordinate a time for your first appointment.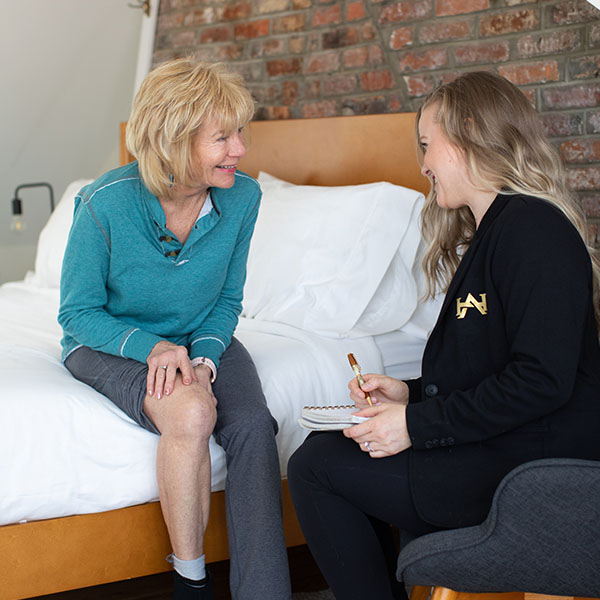 Will My Insurance Cover My Treatment?
As an out-of-network provider, we do not have any contracts with insurance companies, but that doesn't mean we can't help. Our staff is happy to send a courtesy bill to your insurance, but it's important that you're aware of your insurance plan and its benefits. Depending on your insurance provider and plan they may not cover the cost of your treatment, or if they do, it may result in higher prices. Regardless of the situation, if you need additional help our team would be happy to provide what assistance we can. For our patients who have Medicare, our ability to accept it is based on any secondary insurance or financial need. We are a non-participating provider with Medicare. What this means for our patients is that we bill your insurance and Medicare reimburses at 80% of the total cost of approved services.
What Happens Before Your First Appointment?
A few days before your appointment you'll receive an email explaining what to expect during our visit. This email will ask for copies of any insurance cards and referrals from any physician. After your welcome email, you'll receive an additional email asking you to set up your patient portal account. Once you sign in to your portal there will be additional paperwork to fill out. We require that this paperwork be completed prior to your first session. Failing to properly fill out the documents may result in your appointment being canceled. If you do not receive a copy of these documents, please reach out for assistance. You'll also receive a text message just confirming your appointment, and we ask that you respond within 24 hours. On the day of your session, your therapist will arrive promptly. Our team asks that the area for your physical therapy session be free of animals or distractions. This is to ensure a smooth appointment for you and your therapist.
Call to Schedule Your Physical Therapy Appointment Today